Phone Payment
Phone Payment

NEW: Automated Phone Payments at the Book Fair
Payment at the Scholastic Book Fair has never been easier with our new Phone Payment service, allowing parents to pay for individual purchases using a debit/credit card over our secure payment telephone line.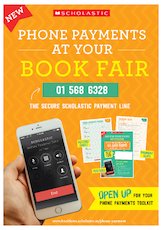 Here's how to use it in five quick and easy steps:
1. Fill in your school's unique Customer I.D. number (your School Account number, which you can find on any letters from us) on the Orange Phone Payment Poster or Green Phone Payment Poster and make sure you put up your poster at the Book Fair.

2. Hand out photocopiable Phone Payment Parent Slips for parents to fill in as they make their purchase.

3. Parents then call our dedicated, secure telephone line with their card details, the school's Customer I.D. number and amount they wish to pay. They need to complete their payment over the phone and record their transaction code on the slip. Once complete, they must return this slip to the Book Fair Organiser before they take their purchase from the Book Fair.

4. Book Fair Organisers can record parent purchases using the photocopiable Phone Payment Teacher Record Sheet. There's no need to keep the payment slips once you have noted the transaction code and amount details.

5. At the end of the Book Fair, enter the total amount of purchases made via phone payment and add this total to "Your Book Fair Sales" on your online Cash Report Form.
Any queries or questions about Phone Payments? Call our Phone Payments helpline on 1800 272 321.