What is the Organiser Toolkit?
The Organiser Toolkit is designed to help you to organise your Book Fair and make it a fantastic event.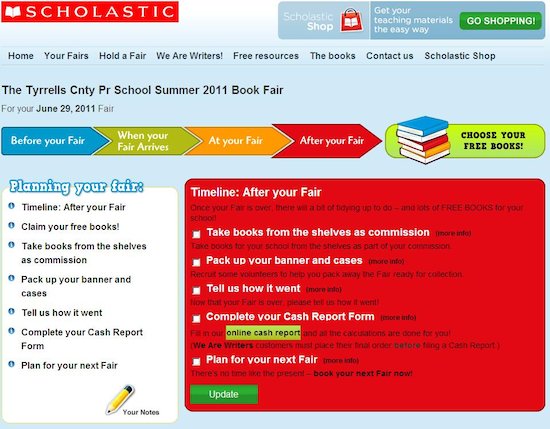 It's full of great features:
Take it step-by-step – follow the timeline in the run-up to your Fair so that you can keep on track with your planning.
Record what you did – along each step of the timeline you can check off the activities that you tried and save notes to remind you for next time. When you next come to run a Fair you'll be able to look back and see what worked for you before.
FREE

resources – you'll be able to download lots of free resources to help you advertise your Fair and make it a great event.
Process your payment – once your Fair is over you can use the online Cash Report Form to process your payment. It will calculate your commission for you.
Using the Organiser Toolkit
To use the Organiser Toolkit, you need to:
Register on this site
Have booked a Book Fair with us.
Log in and start using the Organiser Toolkit