Book Fair Gift Vouchers
Gift Vouchers
Save money with our Book Fair Gift Vouchers!
Book Fair Gift Vouchers
are the simple, secure way to ensure your child gets the books they want when the Book Fair arrives and are perfect if you can't make it to the Book Fair or if your school doesn't accept cash.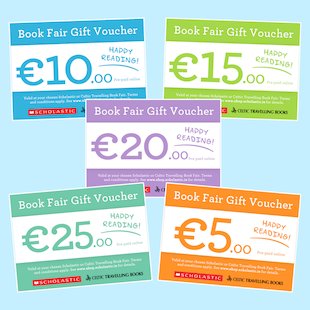 Even better, you'll get an extra 20% for free when you buy online – that means you'll get a €6 voucher for only €5, a €12 voucher for only €10, a €30 voucher for only €25 and so on.
Your school will earn Rewards for free books on the full value of the voucher, rather than the discount price.
Once a purchase has been made, you will receive the voucher in an email which can be printed and given to your child – much safer to carry than cash!
Vouchers can be purchased up until midnight on the day before the collection of the Book Fair. Please speak to your school to confirm the Book Fair dates.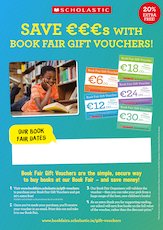 You can even download and print
a poster
to advertise Gift Vouchers to parents.
Download the Gift Vouchers poster