Parents
What is a Book Fair?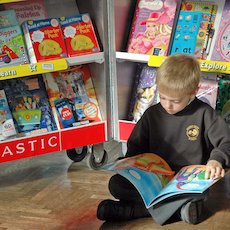 A Book Fair is a fun, pop-up event held at your child's school.
A celebration of reading, Book Fairs last about a week and are a great opportunity for you to browse books with your child. With
over 200 of the newest and the best children's books available
– each chosen by Scholastic's expert book buyers – there will be something to catch the eye of even the most reluctant reader. You'll find
a wide range of books
suitable for your child's age-range and the school can earn
free books
for every book that's bought.
Ways to Get Your Child to Read
The Book Fair is an ideal place to look for books to share with your children. It is well known that reading at home can help them do much better at school – and it's a great way to share quality time. Research also shows that children are five times more likely to finish a book if they have chosen it themselves, making a Scholastic Book Fair the perfect opportunity for even reluctant readers to get excited about reading.
If you have a reluctant reader in your household, here are some top tips from experts about how to create a supportive reading environment for your child.
Want to know more about Scholastic Book Fairs?
Click on the links below to explore our website.
---