Free Resources - Everything you need for your Book Fair
This term we have implemented plans to help you run your Fair as safely as possible, and that includes not sending extra paper and planning kits into schools. Instead, all of the Book Fair promotional materials will be digital. You can find them all below.
---
Before your Fair
The key to a great Book Fair is making sure everyone knows about it! Use the downloadable invitations, posters, social media assets and more to promote your Book Fair so everyone is ready for the big day.
---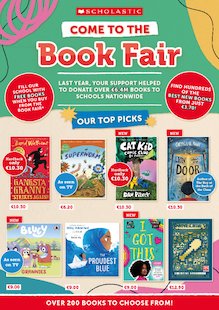 Book Fair Invitation
Download your digital leaflets here, or email or text a link to parents so they can browse the highlights before the Book Fair arrives.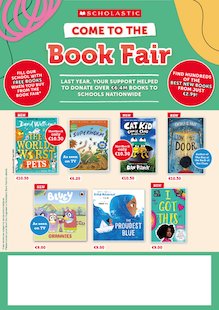 Book Fair Poster
Shout about your Book Fair! Print and put posters up around school 1-2 weeks before your Book Fair arrives to get pupils, parents and teachers excited.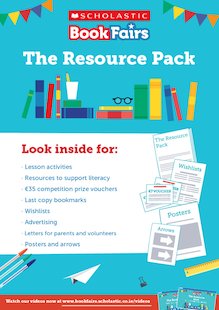 Resource Pack
Everything you need to create excitement at your Book Fair in one handy document! Includes free €35 competition vouchers, browsing wishlists, classroom activities, last copy bookmarks and more!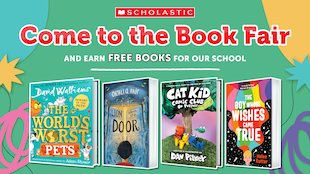 Social Media Image
Download a promotion image to share on your school's social media accounts or in the newsletter. Don't forget to tag us in your posts on Facebook and Twitter, and use the hashtag #ShareYourFair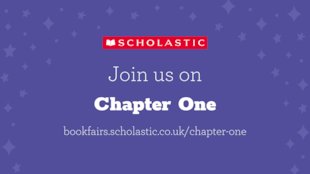 Chapter One Videos
We've asked some of our favourite authors to read one chapter from their books to give you a sneak peek of some the books you may find on your Book Fair and help build the excitement for reading! Visit Chapter One.
Back to the top
---
The day of your Book Fair
The day has finally come and it's time to browse the range!
---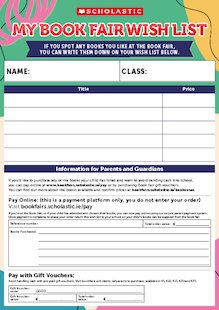 Wish Lists
While your pupils are browsing the Book Fair, they can use the wish list to write down the books that catch their eye! These are especially handy if children are browsing the range independently.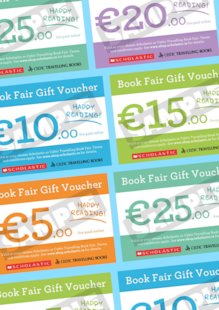 Book Fair Gift Vouchers
Parents can buy gift vouchers online ahead of the Book Fair to avoid handling cash. Vouchers can be purchased until midnight the day before your Book Fair is collected. Find out more on our gift vouchers page
After your Book Fair
We hope you had a fantastic Book Fair! Please log in to complete your Fair Record Sheet
If you need extra copies of any books, please email the completed school order form to bookfairs@scholastic.ie by 1pm on the day before your Fair is due to be collected.
---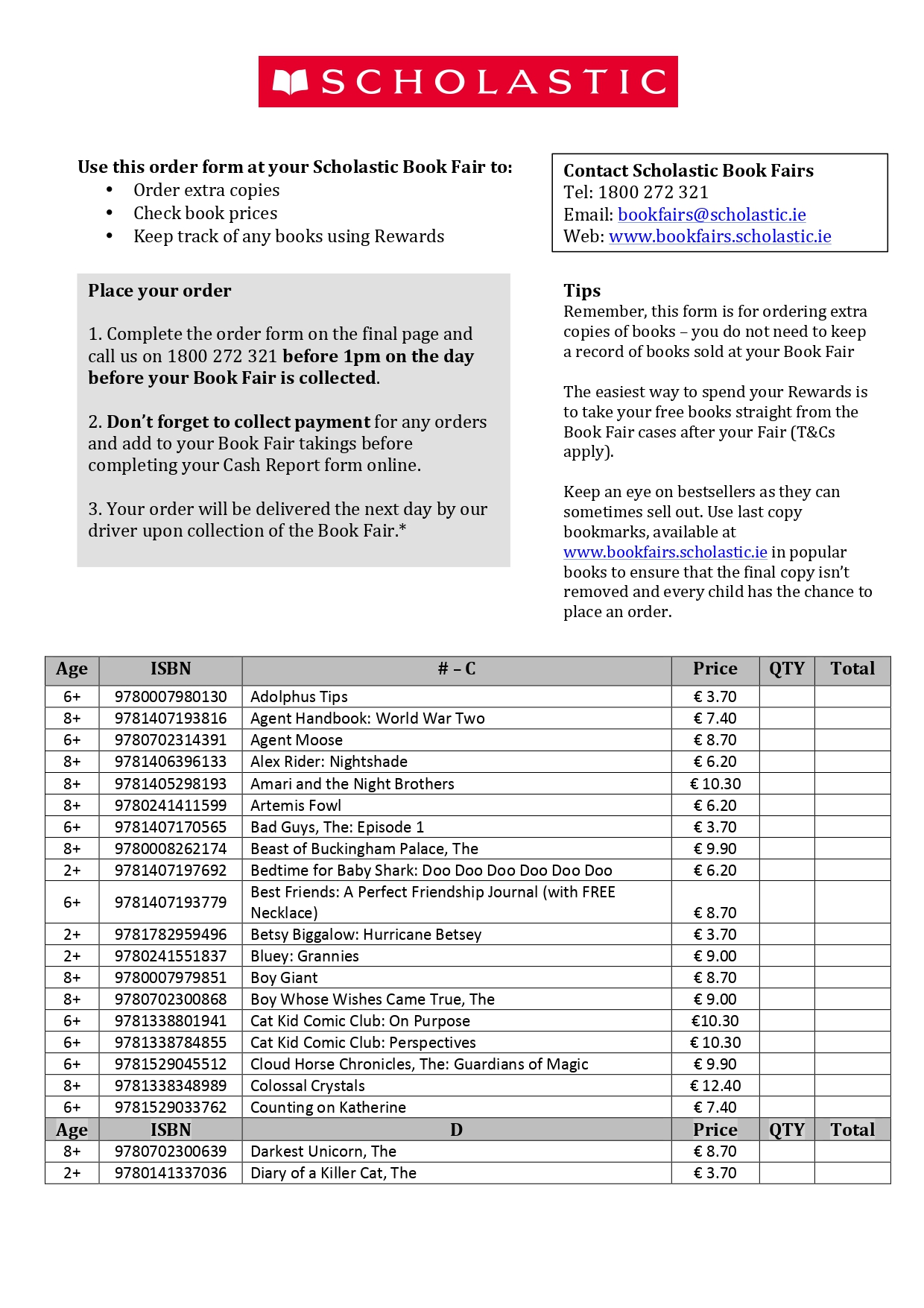 School Order Form
Make sure no one misses out on their book of choice! The School Order Form can be used after the Book Fair to order extra copies of books you sell out of, as well as keep track of book prices and any books you choose using Rewards.
Print out the PDF version or download the Microsoft Word Document.
Certificates
Thank pupils for helping out at your Book Fair with these colourful certificates.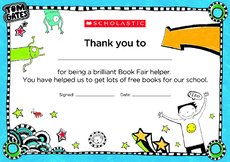 Share the success of your Book Fair, and money raised for books for your school, with this certificate.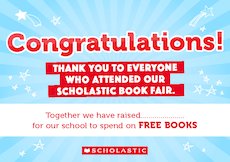 All free resources:
---
---
---