What is a Scholastic Book Fair?
What is a Scholastic Book Fair?
A Scholastic Book Fair is a fun, pop-up event that's all about books.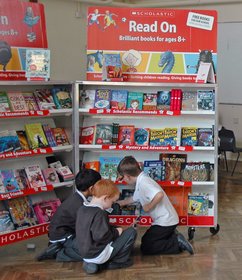 A Book Fair is a celebration of reading that puts the very best books directly into your pupils' hands. We supply your school with mobile bookcases packed with over 200 of the newest and best books from over sixty publishers to sell to your pupils to help them develop a life-long love of reading. With books starting from only €3.70, plus exclusive titles that you won't see in the shops or at any other fairs, there's sure to be a book for everyone! Browse our current book selection.

Your school will reap long-term benefits from a Scholastic Book Fair too! Every book sold at your Fair can help to get free books for your school. If you want to find out more about Scholastic Rewards, call us for free on 1800 272 321.


A fantastic reading event!
From competitions and activity ideas to engage pupils, to posters and invitations to help promote your Fair, we will give you everything you need to make your Scholastic Book Fair a successful literacy event for the whole school.

What teachers say:
"A great annual event for children!" Mr L Shanahan, Shanbally National School, Co. Cork
"We have stocked our classroom libraries healthily on the strength of our Book Fairs!" Sile Ui Chiarain, Realt Na Mara Sins, Co. Louth
"A positive experience and beneficial to the school and pupils." Ms C McDonald, Ballyfeeney National School, Co. Roscommon
"Scholastic's energy and enthusiasm for your school's success is contagious and the genuine interest they show in all your ideas for promoting the book fair help make the process a fun experience for all involved." Jeanne Thorne, Toddlers Hill Creche & Montessori, Ardee, Co.Louth