A Celtic Travelling Book Fair

Use the quick links below to skip to a section or scroll down the page to browse.

What is a Book Fair?
The books
Boost your school budget
Everything you need to run your Book Fair
Book Fair Gift Vouchers
Book a Book Fair
How to pay at your Book Fair
What schools say
FAQs
What is a Book Fair?
A Book Fair is a pop-up book shop that brings the very best in children's books to your school.
It lasts about a week and is a great opportunity to create a school-wide reading focus and build a buzz about books for the children – as well as to earn free books and resources for your school.
The books: hundreds to choose from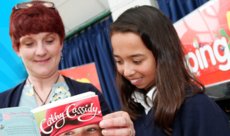 Every Book Fair is packed with hundreds of the best children's books for all ages – from award-winners and the newest titles to pocket-money pick-ups and treasured classics.
The range includes picture books, early readers, chapter books, books for reluctant readers, older fiction, non-fiction, home learning and lots more. It's a range you can trust too – every book is carefully read and selected by our Book Buying Team.
Browse the new Book Fair range
Boost your school budget with a Book Fair
Every book sold at your Book Fair helps to earn Rewards that you can spend on free books† and resources for your classrooms and library. Each year, Travelling Books helps to donates €10 million worth of free books to schools across the UK and Ireland. As an example, for every €10 that you spend, your school can earn up to €6 back in Rewards to spend to refresh the range of children's books in your classrooms.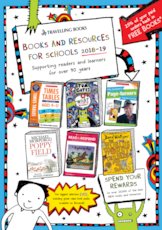 When you've arranged your Book Fair, you will receive a catalogue – our biggest ever with over 10000 books and teacher resources – which is yours to browse and choose what you'd like to spend your Rewards on. You can choose from children's books as well as essential resources including textbooks, National Test practice papers, reading programmes and lots more.
Everything in our catalogue is also available in our online shop. It's easy to start shopping – just create an account using your Book Fair details and you're away!
† Free books terms and conditions apply. Please contact your local Travelling Books distributor for details.
Everything you need to run your Book Fair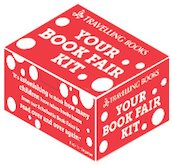 We'll provide everything you need to make your Book Fair a successful literacy event. Our team is always on hand to support schools every step of the way to provide a personalised service to meet the needs of your school.
You also have a range of free resources at your fingertips. We'll deliver a Book Fair Kit to you before your Book Fair, packed with posters, leaflets and more to advertise your Book Fair. And there's more – check out Free resources for Top Tips videos, slideshows and the free Resource Pack (including €35 competition prize vouchers) – as well as all of the tools you'll need to run your Book Fair.
Book Fair Gift Vouchers
Save €€€s with our Book Fair Gift Vouchers! They're the simple, secure way to ensure children get the books they want when the Book Fair arrives and are perfect if parents can't make it to the Book Fair or you have a cashless school.
Even better, you'll save 20% when you buy online meaning a €12 voucher costs only €10, a €6 voucher costs only €5 and so on.
Your school will earn Rewards for free books on the full value of the voucher, rather than the discount price.
Once a purchase has been made, customers will receive the voucher in an email which can be printed and given to the child – much safer to carry than cash! Vouchers can be purchased up until midnight on the day of collection of the Book Fair.
Book a Book Fair
To organise a Celtic Travelling Book Fair in your school, just get in touch for more details.
What schools say about Celtic Travelling Books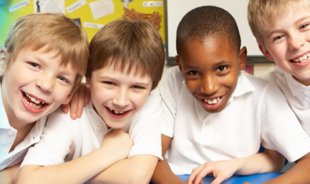 "Thank you for making our Book Fair so stress-free and enjoyable. Everybody was very impressed with the selection of books for all ages. The Book Fair was a great success and I look forward to using your company again." Rosemary O'Neill, Book Fair Organiser, Sutton, Dublin 13
"Thanks for all your help and especially for delivering books into school during the fair." Siobhan Ni Chaoimh, Book Fair Organiser, Dublin 1
"Our final takings were €4707. Everything ran extremely smoothly, due in no small way to your excellently organised set-up and beautiful quality books. Keep up the good work!" Aingeal Uí Dhálaigh, Priomhoide, Ceatharlach
How to pay at your Book Fair
Parents visiting your Book Fair can pay safely and securely for their books through a variety of methods: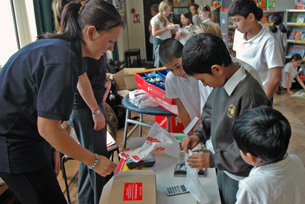 1. Cash – that last €1 coin from the bottom of a pocket or the corner of a purse doesn't need to go to waste!
2. Cheques – these need to be made payable to the school, not Scholastic.
3. Phone Payment – parents can now pay for purchases with their debit/credit card over a secure payment telephone line. Find out more.
4. Book Fair Gift Vouchers – save even more money at your Book Fair with gift vouchers. Simply buy online to save 20% and ask parents to take the printout to your Book Fair. Find out more.
5. €1.50 World Book Day tokens – we accept these only at certain times of the year. Speak to your Book Fair Co-ordinator for terms and conditions.
6. National Book Tokens – these can be spent at your Book Fair but no change can be given. Speak to your Book Fair Co-ordinator for terms and conditions.
7. Debit/credit card – this is only available if a chip and pin machine is provided for your school. The payments come directly through to Scholastic.

And one to avoid: Debit/credit card details must not be sent through the post under any circumstances. We no longer supply printed debit/credit card slips so if you have any from a previous Book Fair, please dispose of them. Speak to your Book Fair Co-ordinator if you have any questions about this or any kind of payment.

Put these tips into practice and your Book Fair will be flying!