What is a Book Fair?

A Book Fair is a pop-up book shop that brings the very best in children's books to your child's school. It lasts about a week and is a great opportunity for you to browse books with your child – and for you to find stories to read, love and share together.
Book Fair Gift Vouchers are the simple, secure way to ensure your child gets the books they want when the Book Fair arrives and are perfect if you can't make it to the Book Fair. Even better, you'll get an extra 20% free when you buy online meaning a €12 voucher costs only €10, a €6 voucher costs only €5 and so on.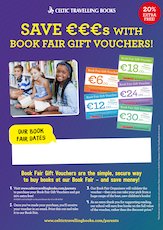 Your child's school will earn Rewards for free books on the full value of the voucher, rather than the discount price.
Once a purchase has been made, you will receive the voucher in an email which can be printed and given to your child – much safer to carry than cash! Vouchers can be purchased up until midnight on the day before the collection of the Book Fair. Please speak to your school to confirm the Book Fair dates.
Teachers, you can even download a poster to advertise Gift Vouchers to parents!
Download the Gift Vouchers poster
How your school benefits from a Book Fair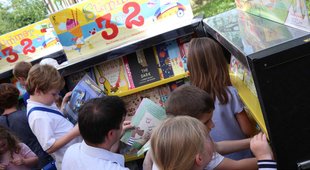 Every book you buy helps to earn Rewards that the school can spend on free books and resources for the classrooms and library. †
Each year, Travelling Books helps to donates €10 million worth of free books to schools across the UK and Ireland.
As an example, for every €10 that you spend, your school can earn up to €6 back in Rewards to refresh the range of children's books in your classrooms.†
† Free books terms and conditions apply. Please contact your local Travelling Books distributor for details.
Hundreds of great books to choose from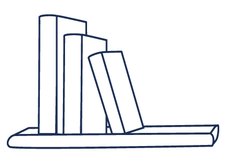 Every Book Fair is packed with hundreds of the best children's books for all ages – from award-winners and the newest titles to pocket-money pick-ups and treasured classics.
The range includes picture books, early readers, chapter books, books for reluctant readers, older fiction, non-fiction, home learning and lots more. It's a range you can trust too – every book is carefully read and selected by our Book Buying Team.
Browse the new Book Fair range
Reading tips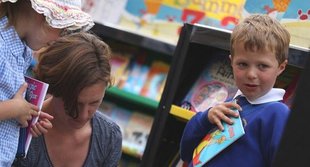 When a child's imagination is captured by a book, you want to nurture it, nourish it and, above all, keep that spark alive. That's where out handy Reading Lists come in, meaning you'll always have a reading recommendation to hand when enthusiasm strikes. Find out more.
FAQs
1. Can I buy books at the Book Fair with a credit card? If your Book Fair has a card reader, then yes, you can pay by Mastercard, Visa or Maestro.
2. Can I buy pre-paid Book Fair Gift Vouchers? Yes! You can buy pre-paid Book Fair Gift Vouchers here. Simply pay online, receive your voucher by email, print and spend! Our Book Fair Gift Vouchers are convenient and are a great way to save money at your Fair. If you have any questions about Gift Vouchers, please contact Customer Services on 1800 728 828.
3. Who should cheques be made payable to? Cheques should be made payable to the school.
4. Can I pre-pay for books and collect them when the Book Fair arrives? You are welcome to do this in discussion with your school's Book Fair Organiser but our online Click and Collect service has now been discontinued. You will be able to order any books from the Book Fair so our best advice is to pop along when it opens and place any orders then.
5. Can I pay for my purchases at the Book Fair by phone? Yes, we do offer a phone payments system but it is the school's decision whether to offer it. Speak to your schools Book Fair Organiser for more details.
6. What time will the Book Fair be open? This depends on the school. Most open at the end of the school day however please check beforehand as each school arranges their own opening times.
Have any other questions? Let us know!