Competitions

Happy Monkey Competition Autumn 2017
WIN an iPad, £500 worth of books for your school and some tasty Happy Monkey smoothies!
For more information, click here
Tom Gates Competition
WIN AN EXCLUSIVE UKULELE DOODLED BY LIZ PICHON, £250 OF MUSICAL INSTRUMENTS FOR YOUR SCHOOL AND A TOM GATES GOODY BAG!
This competition is now closed.
Harry Potter Competition, autumn 2016
With nearly 2,000 entries, our Harry Potter competition was one of our most popular of all time. The standard of the entries was also extremely high, making picking winners a very difficult job for our judges. Well done to all who entered.
Overall Winner
Shriya, from Stranmills Primary School (Hufflepuff)!
Shriya's entry really impressed us. Her three page essay showed her in-depth knowledge of Hufflepuff House, as well as showing how her character matches up with the values of the House.
"If I am put into Hufflepuff I will be able to make bad witches and wizards good by convincing them! I shall make Hogwarts better."
Congratulations Shriya!
Runners Up
Briahna, from St Mary's CE Primary School (Ravenclaw)
Alex, from Scoil Nicoláis (Gryffindor)
Nina, from Wicklow Montessori Primary School (Hufflepuff)
Brendan, from St John Fisher Catholic Voluntary Academy (Hufflepuff)
Dylan, from Nicholas Hawksmoor Primary School (Gryffindor)
Leah, from Whithom Primary School (Ravenclaw)
Kaena, from Crackley Hall School (Hufflepuff)
Tanisha, from Grove Road Community Primary School (Ravenclaw)
Calum, from Viewlands Primary School (Gryffindor)
Priya, from Higham Primary School (Ravenclaw)
Bug Hotel Fit for a Queen Competition, summer 2016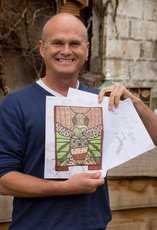 In a competition judged by Wildlife World and Simon King, TV cameraman and naturalist, pupils were asked to design an insect hotel fit for a Queen. The winning design was chosen for its 'combination of a striking design with practical elements'.
Congratulations to the winners!
1st Place: Catshill Middle School, Bromsgrove
2nd Place: Highcliffe Mark Primary, Christchurch
3rd Place: Catshill Middle School, Bromsgrove
Win a Pop-Up Tent Competition, summer 2016
Congratulations to the winner, Rose Austin from Hempstead Junior School in Gillingham!

Back to top