Celtic Travelling Books Previous Competition Winners

I Spy Competition
WIN a Nintendo Switch, a bundle of Dog Man goodies plus €500 worth of books for your school!
Winner
Mohammed from Birmingham.
Mohammed designed a fantastic book mark and spotted some excellent books around his Fair. Congratulations!

Tom Gates Doodle Competition Spring 2019
WIN a doodle by Liz Pichon, €1000 in books for your school and more!
Winner
Stevan from North Shields.
Liz Pichon herself chose Stevan's drawing as the winner. She really loved his creative re-imagining of his favourite book's cover! Congratulations Stevan!

Dog Man Competition Spring 2019
WIN a set of Dog Man books and your very own camera!
Winner
Freddie from London
Freddie's adorable dog tucked into a good book and won our hearts! Congratulations Freddie!

Happy Monkey Competition Autumn 2018
Winner
Morgan from Queen Emma Primary School.
Happy Monkey helped us to choose our winner, and they chose Morgan's entry because they really liked the beautiful descriptions and detailed artwork. Congratulations Morgan!
Runners up
Orla from St Anne's Primary
Isla from St Mary's Primary
Cerys from Parkfield Primary

Super Competition Spring 2018
Winner
Kritika from Talavera County Junior School.
We loved Kritika's clever acronym for a superhero squad of grandmothers – the Brave Intrepid Noble Granny Organisation (or The BINGOs) impressed our judges! Congratulations Kritika!
Runners up
Nicholas from Hatchell Wood Primary, who created Squirrel Man
Hannah from Vicarstown National School, who created Batwolf and Horsechicken
Niamh from St Macartans Primary School, who created the Reading Rebellions

Happy Monkey Competition Autumn 2017
Winner
Nikhil from Rhiwbeina Primary School.
We had so many fantastic name ideas for the monkey that we asked Happy Monkey to help us choose, and they loved Nikhil's Bananaby. Congratulations Nikhil!
Runners up
Penelope from Axminster Catholic School, who named the monkey Giggles
Melanie from Urmston Primary School, who named the monkey Milo the Mischievous Monkey
Ella from Eldene Primary School, who named the monkey Melony
Tom Gates Competition
First Place
Grace, from Fife!
The Tom Gates song competition was judged by the author Tom Gates, Liz Pichon. Liz felt that Grace's song was catchy, well written, beautifully sung and well played.
Congratulations Grace!
Runners up
Samuel from Seely Primary
Sophie from Helm School, Meltam
Annabel and Chloe from Pendoylan Church in Wales School
Olivia and Beatrix from Botley School, Oxford
Congratulations to the runners up and to everyone who entered – the standard of the competition was extremely high.
Harry Potter Competition, autumn 2016
With nearly 2,000 entries, our Harry Potter competition was one of our most popular of all time. The standard of the entries was also extremely high, making picking winners a very difficult job for our judges. Well done to all who entered.
Overall Winner
Shriya, from Stranmills Primary School (Hufflepuff)!
Shriya's entry really impressed us. Her three page essay showed her in-depth knowledge of Hufflepuff House, as well as showing how her character matches up with the values of the House.
"If I am put into Hufflepuff I will be able to make bad witches and wizards good by convincing them! I shall make Hogwarts better."
Congratulations Shriya!
Runners Up
Briahna, from St Mary's CE Primary School (Ravenclaw)
Alex, from Scoil Nicoláis (Gryffindor)
Nina, from Wicklow Montessori Primary School (Hufflepuff)
Brendan, from St John Fisher Catholic Voluntary Academy (Hufflepuff)
Dylan, from Nicholas Hawksmoor Primary School (Gryffindor)
Leah, from Whithom Primary School (Ravenclaw)
Kaena, from Crackley Hall School (Hufflepuff)
Tanisha, from Grove Road Community Primary School (Ravenclaw)
Calum, from Viewlands Primary School (Gryffindor)
Priya, from Higham Primary School (Ravenclaw)
Bug Hotel Fit for a Queen Competition, summer 2016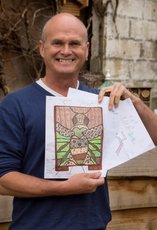 In a competition judged by Wildlife World and Simon King, TV cameraman and naturalist, pupils were asked to design an insect hotel fit for a Queen. The winning design was chosen for its 'combination of a striking design with practical elements'.
Congratulations to the winners!
1st Place: Catshill Middle School, Bromsgrove
2nd Place: Highcliffe Mark Primary, Christchurch
3rd Place: Catshill Middle School, Bromsgrove
Win a Pop-Up Tent Competition, summer 2016
Congratulations to the winner, Rose Austin from Hempstead Junior School in Gillingham!
Back to competitions